Feedback
Yesterday's post titled "Android Instant Apps / The Slow, Inexorable Death of HTML" surprisingly accumulated some 35,000 or so uniques in a few hours. It has yielded feedback containing recurring sentiments that are worth addressing.
it is weird the article trying to sell the idea that apps are better posted XKCD images stating otherwise
While there are situations where a native app can certainly do things that a web app can't, and there are some things it can simply do better, the prior entry wasn't trying to "sell" the idea that apps are inherently better (and I have advocated the opposite on here and professionally for years where the situation merits). It was simply an observation of Google's recent initiative, and what the likely outcome will be.
Which segues to another sentiment-
The reverse is happening. Hybrid apps are growing in number. CSS/JS is becoming slicker than ever.

The web is already a universal platform, so why the ████ would you code a little bit of Java for Android instead of writing it once for everything?
In the prior entry I mentioned that some mobile websites are growing worse. The cause of this decline isn't that HTML5/JS/CSS or the related stack is somehow rusting. Instead it's that many of these sites are so committed to getting you into their native app that they'll sabotage their web property for the cause.
No, I don't want to install your app. Seriously.
Add that the mobile web has seen a huge upsurge in advertising dark patterns. The sort of nonsense that has mostly disappeared from the desktop web, courtesy of the nuclear threat of ad blockers. Given that many on the mobile web don't utilize these tools, the domain is rife with endless redirects, popovers, the intentionally delayed page re-flows to encourage errant clicks (a strategy that is purely self-destructive in the longer term, as every user will simply hit back, undermining the CPC), overriding swipe behaviors, making all background space an ad click, and so on.
The technology of the mobile web is top notch, but the implementation is an absolute garbage dump across many web properties.
So you have an endless list of web properties that desperately want you to install their app (which they already developed, often in duplicate, triplicate…this isn't a new thing), and who are fully willing to make your web experience miserable. Now offer them the ability to essentially force parts of that app on the user.
The uptake rate is going to be incredibly high. It is going to become prevalent. And with it, the treatment of the remaining mobile webfugees is going to grow worse.
On Stickiness
I think it's pretty cool to see a post get moderate success, and enjoy the exposure. One of the trends that has changed in the world of the web, though, is in the reduced stickiness of visitors.
A decade or so ago, getting a front page on Slashdot — I managed it a few times in its hey-day — would yield visitors who would browse around the site often for hours on end, subscribe to the RSS feed, etc. It was a very sticky success, and the benefits echoed long after the initial exposure died down. A part of the reason is that there simply wasn't a lot of content, so you couldn't just refresh Slashdot and browse to the next 10 stories while avoiding work.
Having a few HN and Reddit success stories over the past while I've noticed a very different pattern. People pop on and read a piece, their time on site equaling the time to read to the end, and then they leave. I would say less than 0.5% look at any other page.
There is no stickiness. When the exposure dies down, it's as if it didn't happen at all.
Observing my own uses, this is exactly how I use the web now: I jump to various programming forums, visiting the various papers and entries and posts, and then I click back. I never really notice the author, I don't bookmark their site, and I don't subscribe to their feed. The rationale is that when they have another interesting post, maybe it'll appear on the sites I visit.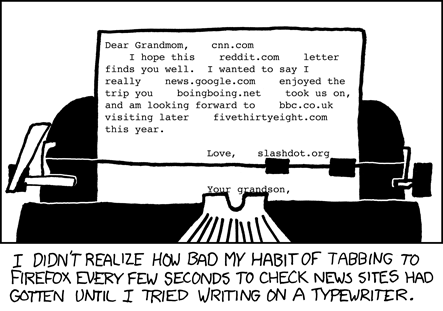 This is just the new norm. It's not good or bad, but it's the way we utilize a constant flow of information. The group will select and filter for us.
While that's a not very interesting observation, I should justify those paragraphs: I believe this is the cause of both the growing utilization of dark patterns on the web (essentially you're to be exploited as much as possible during the brief moment they have your attention, and the truth is you probably won't even remember the site that tricked you into clicking six ads and sent you on a vicious loop of redirects), and the desperation to install their app where they think they'll gain a more permanent space in your digital world.